Reserved section. Watch the races in style.
The paid reserved section on the 4th floor of the Grandstand will let you relax and enjoy the races in style. All seats are non-smoking, with two designated smoking areas. Seats are available with a desk and four-way odds display monitor, as well as more reasonably priced seats, and twin seats. Drinks are free of charge.
Special service for race fans seated in reserved section.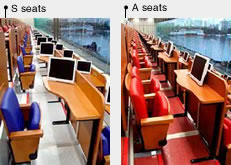 [Reserved section types and prices]
S seats: 2,000 yen (330 seats, with monitor)
A seats: 2,000 yen (148 sets(296 seats), with monitor) *including 4 seats for wheelchair users



Don't miss the intense race for the 1st marker!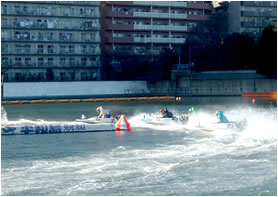 The thrill of boat racing is watching the race for the 1st marker. This intense battle often determines the outcome of the race. Sit near the first marker to make sure you catch all of the exciting action.
The 1st marker is located farthest from the front gate.


Don't miss the winning racer's victory lap!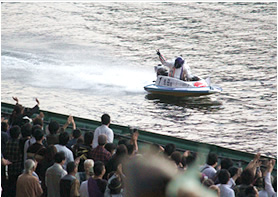 The winner of the 12th race on the last day of the tournament performs a victory lap on the water.
Cheer the triumphant winner as he/she glides through.


Don't miss the delightful food at the stadium!
Several restaurants and kiosk stands are open inside BOAT RACE Heiwajima.
All of the shops offer unique original menus.
Make your race predictions on a heartily filled stomach.


Boat race gift shop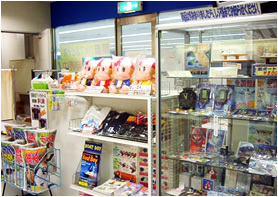 Don't forget to stop by. You'll find all kinds of odds and ends related to boat racing.

Shop Wave is located on the 1st floor of Bay Plaza.

More entertainment outside as well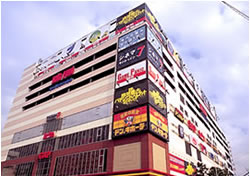 BIG FUN HEIWAJIMA, located right next to BOAT RACE Heiwajima, houses amusement facilities including a movie theater, bowling alley, and hot spring baths.
And nearby you'll find the SHINAGAWA AQUARIUM, the Oi Keibajo (horse race track), and the boarding docks for Tokyo Cruise's boat tours of Tokyo Bay. Get an extra dose of entertainment after the race, or sit back and relax before going home. The choice is yours.